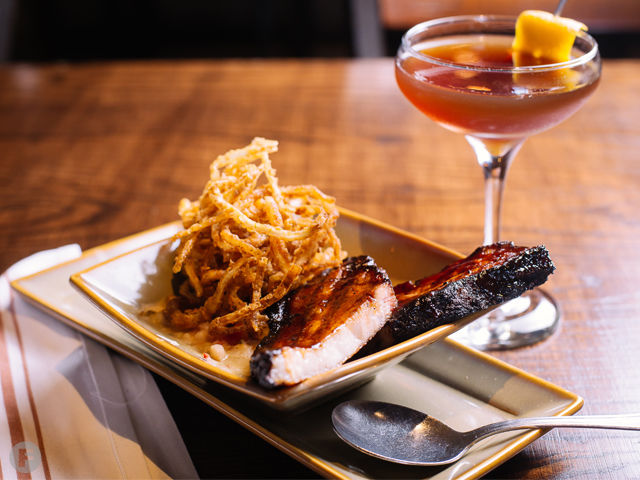 Jenn Tosatto's New Bar Program Makes Q39 a Drink Destination
Article: Jenn Tosatto's New Bar Program Makes Q39 a Drink Destination
Author: Natalie Gallagher
Publisher: Feast Magazine
Date: Oct 24, 2016 
Who knew a barbecue joint could be known for its cocktails?
Since it opened on 39th Street in April 2014, Q39 has enjoyed a flourishing reputation for its competition-level barbecue – but very little has been said about its cocktail program. Until lauded local bartender Jenn Tosatto came along, you could argue there wasn't much of one.
Tosatto has been in place as the bar manager at Q39 since August. She's got an impressive resume with a long list of accolades – most recently, she was a national finalist in the Vinos De Jerez Sherry Competition, and she has consistently ranked in the annual Paris of the Plains Bartending Competition every year that she has entered since 2008. So, when she announced her move to Q39 back in June, it came as something of a surprise. But Q39 owner Rob Magee wanted someone with both craft cocktail and high volume experience to reinvent his bar program, and Tosatto was undeniably the woman for the job.
Tosatto's drink list – eight specialty cocktails with five reinvented classics – is a mix of her personal bartending style ("brown, bitter, stirred, booze-in-your-face," she readily admits) with some of the frequent guest requests. Every drink, she says, is designed to pair with Magee's cuisine.
Take, for instance, the O Sherry Mio, featuring Amontillado sherry, Old Overholt rye whiskey, lemon and orange juice, fresh pineapple, and a housemade cinnamon syrup. Shaken and served over ice, it features glittering pieces of pineapple studding the ice cubes. It goes down like a bourbon smash with an easy, anybody-can-drink-this flair.
Tosatto and Magee have paired this cocktail with a divinely fatty slice of pork belly drizzled with one of Q39's signature barbecue slices and spiced onion straws. The tropical gift of the O Sherry Mio makes absolute sense with this pure pork bite, and would make quite the pair for a dish with a kick – Q39's housemade chipotle sausage, perhaps.
For all of Tosatto's considerable talent, though, the Everybody's Girl – with Grant's Scotch, cream sherry, Averna, housemade cherry cordial and Bitterman's Burlesque Bitters – seems a bit of a stretch to pair with, say, a heaping plate of burnt ends. This drink is shaken and served sans ice, its color a dark, inky brown-black. The scotch is barely detectable except for a few peaty notes on the backend; instead, the Averna dominates, with a playful tug-of-war going on between sweet and bitter flavors.
"This drink is very close to my heart," Tosatto says. "I've been working on it for years to perfect it, and I think I've finally got it. It's great for people who don't like scotch or think they don't, because it tones down that peat a bit. At the same time, this is a sipper style cocktail – it won't be one that you throw back."
On that point, I might disagree with Tosatto: My own Everyday's Girl disappears a little too quickly. I'm surprised to find that the fat chunks of burnt ends that are recommended with this cocktail play together like the very best of friends; there's something about the smoked, rich burnt ends, sweet-and-spicy barbecue sauce, and boldly bittersweet cocktail that match exceedingly well.
"When I'm thinking about pairings, I look a lot at classics – if something is really fatty, it goes with something acidic," Tosatto says, "but with barbecue, you have to look at things like smoke and texture. A lot of that was really in the forefront of my mind. Like, of course whiskey and scotch go with red meat. But the Everybody's Girl is a heavier cocktail, it's got a big backbone, and normally, you wouldn't want to put that next to a heavy dish. But I like playing with things like that – a heavier drink with burnt ends, some people would go, 'No, no!' and I just think, 'Yes, yes!'"
Tosatto's next drink is a surprise: the Wink and Nudge features J. Rieger & Co. Vodka, cherry liqueur, lemon juice, cinnamon syrup and hard cider. It sounds sweet, and it is, but not in a cloying way. It's more like a glass of late summer warmth on a fall day, and I find myself naturally reaching for it, wanting to wash down the pulled pork and sliced apple slaw sliders. The automatic gesture, and the ease of this drink, are a very good indicator of how naturally Tosatto's cocktail menu fits in at Q39.
And because Tosatto – who has been moving fluidly throughout the bar, an enigmatic conductor – cannot be tamed, there is also a delightful mezcal margarita called the Smoke and Fire (Vida Mezcal with Cointreau, lime and Bitterman's Hellfire Shrub) that she has squeezed onto the list. It's a heady concoction, and I imagine that Magee's char-grilled chicken would complement it nicely.
Of course, Tosatto will soon have quite a bit more restaurant to serve as soon as Q39's expansion is complete. Magee has taken over the least at the former nail salon next doorto the restaurant at 1000 W. 39th St. The 1,100-square-foot space is being renovated to seat an additional 48 guests, and there will also be a large outdoor deck and bar area seating 40.
"We've been listening to the Yelp reviews, to what people are saying about the wait times," Magee says, referencing the long lines of hungry diners who congregate outside the restaurant as they wait for a table. "This expansion will hopefully allow us to get people seated quicker and make them happier a little sooner."
Magee expects the expansion to be complete by December, and he has plans to stay busy: He's recently purchased the former Hayward's Pit Bar-B-Que at 11051 Antioch Road in Overland Park, and will be transforming it into a second Q39 location. The goal, he says, is to have it open by May 2017.
There's no word yet on whether or not Tosatto's cocktail program will follow Q39 to its new location. In the meantime, rest assured that 39th Street's Q39 is no longer a destination for only barbecue.
Read original article here: https://www.feastmagazine.com/the-feed/kansas_city_news/article_6a5c0536-9a08-11e6-b18c-43da49159143.html