At the low-lying junction of the Missouri and Kansas rivers rests Kansas City's West Bottoms district. In the late 1800s, the West Bottoms was historically home to the Kansas City Livestock Exchange and Stockyards. A little more than a century later, it completed the circle of life as host of the self-proclaimed largest barbecue competition in the nation – the American Royal World Series of Barbecue.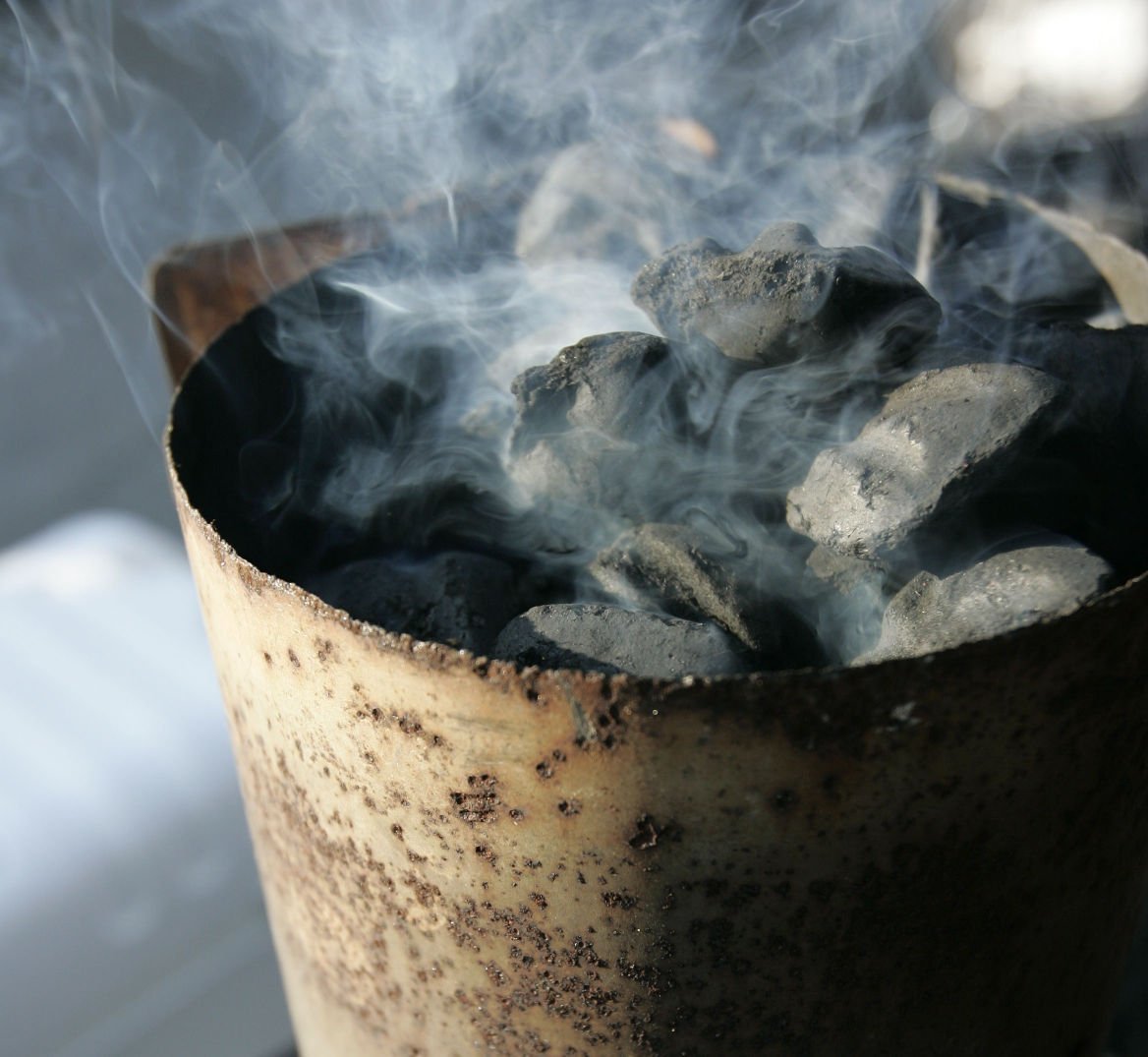 Each year, makeshift canopy cities form overnight full of every type of competitor.
They've traveled here from 32 states and five different countries. And you see as many good ol' backcountry boys wielding $200 Weber Kettles in the beds of rusting pickups as you do sponsored, third-generation teams rolling in with RV mansions and toting $20,000 custom grills. Some competitors are in it for fun and others for publicity; some are able to make a living out of the prize money, and some of these weekend warriors just use it to cover costs for the next competition. Every end of the barbecue-enthusiast spectrum is represented. Yet, each team has an equal chance in the eight-point scaled blind judging.
What competitive pitmasters have spent years perfecting isn't what you'll typically eat in a restaurant. At The American Royal and most other competitions, meat that falls off the bone is considered overcooked. Meat must be served in an unmarked Styrofoam container with no garnish other than green lettuce, parsley or cilantro. Sauce cannot be served on the side. And competition 'cue is considerably better, as it should be, with cooks focusing on just enough meat to feed six judges, compared to the 5,000 pounds some restaurants dole out daily.
Wafting from the barbecue mecca is a veil of thick, sweet smoke. It's the kind of aroma that triggers star-spangled ancestral memories of families and friends sitting out by the grill or barbecue pit. For the competitors, it's the scent of equal parts camaraderie and cutthroat perfectionism, plus the chance for glory.
The barbecue competition began in 1980 as a fundraiser for the American Royal programs, which mostly benefit youth, scholarship and education. The American Royal traces its beginnings to 1899 when it began as The National Hereford Show. It consists of two competitions: the invitational and the open. To qualify for the invitational, a team must be named a Grand Champion, the highest honor, in an American Royal-sanctioned contest.
The Kansas City-based competition has grown so large that the American Royal leadership has moved the World Series of Barbecue from the West Bottoms to the Truman Sports Complex at Arrowhead Stadium this year. (All other American Royal events will still be held in the West Bottoms.) The West Bottoms is a 36-year tradition, yet it can only fit approximately 562 teams in its limiting 85,000 square feet (about a football field and a half) and there's really no place for noncompeting fans to witness the action or eat barbecue. It's a bittersweet but needed move, says the American Royal's five-year outgoing president and chief executive officer, Bob Petersen.
"Everyone we've talked to has been very positive about it," Petersen says of the move. "In any community you have those who don't like change, but as we visit with people and explain the reasons behind the move, we've received warm and enthusiastic support."
As of early August, 580 teams had already registered for this year's World Series of Barbecue, with more calling to register every day, Petersen says. The relocation symbolizes and underlines the growth of competition barbecue happening in cities across the country.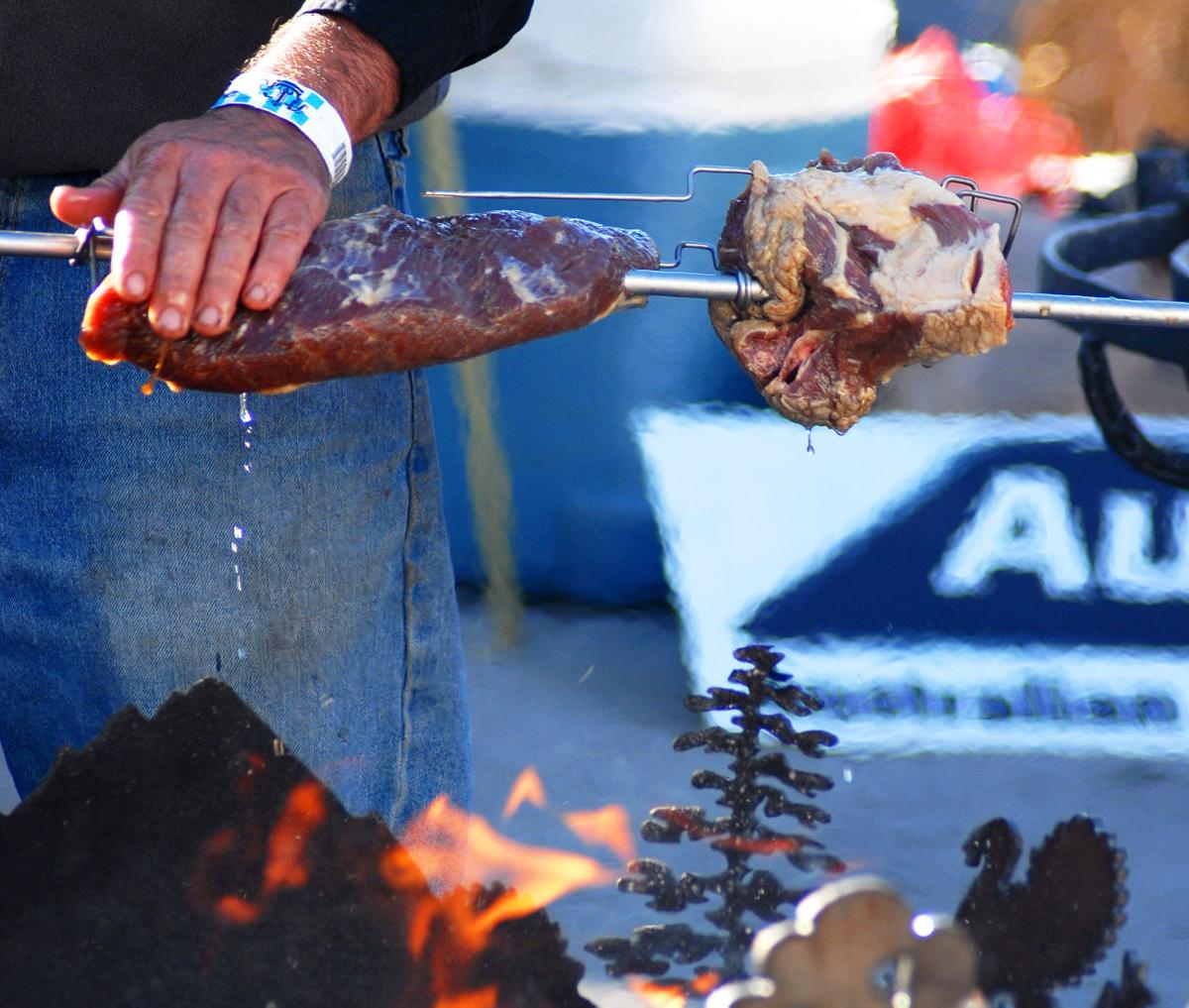 Bringing the Full-Time Heat
For most, the competitive barbecue season runs from March through November, but Leawood, Kansas-based Rod Gray and his wife, Sheri, compete in approximately 35 competitions year-round. He's one of only a handful of full-time competitors. Gray makes enough money through sponsorships and winning Grand Champion prize money to support his family.
Since 2001, his team, Pellet Envy, has swept 58 Grand Champions at competitions across the country. Gray took the 2009 Kansas City Barbecue Society (KCBS) overall Team of the Year (and 2010 runner-up), known unofficially as winning the national championship. He won $50,000 as the whole-hog champion of the season four finale of television show BBQ Pitmasters on the Destination America channel. He teaches sold-out barbecue competition cooking classes around the Kansas City area – he's taught nearly 2,000 people from around the world. And he has a line of sauces and rubs, Eat Barbecue, with his face on it. Put that in your pit and smoke it.
He prefers his KCBS Team of the Year award to Grand Champion wins at any of the big four competitions: Memphis in May, Houston Livestock Show and Rodeo's World's Championship Bar-B-Que, Jack Daniel's World Championship Invitational Barbecue and the American Royal.
The KCBS is the most well-recognized governing body for competitive barbecue. The group created the rules a little before 1986 and today it oversees the sanctioning and judging of nearly 500 competitions throughout the world.
Carolyn Wells, one of the founders, says the KCBS started as a group of hardcore competitors. People would call her to see where and when the next competitions were, and out of need, a group was founded.
"To take it seriously [back then] was grounds for eviction," she says. "It obviously got more serious."
It's grown up since the early days, according to Wells. Today it's an art form that has its own culture.
The KCBS tracks teams and top 10 sanctioned competition scores for the calendar year, and the accumulated points determine Team of the Year, announced at the awards banquet each January.
"It doesn't sound as sexy," Gray says, "but it's the award that every serious competition team wants to win. It doesn't mean you got lucky one time; it means you were good enough to be consistent for an entire year."
That's why when he's determining his contest lineup each year, he evaluates which events can maximize his points. Other important selection considerations are contests that treat the cooks well and those that pay bigger prizes – after all, he does have to make a living.
Before smoking meat became his job, Gray owned his own business rebuilding charred, fire-damaged property. He didn't grow up with barbecue other than getting a Weber Kettle from his parents for Christmas one year. But something clicked when his former office manager invited him out to the first-ever, now-shuttered barbecue contest at the Kansas Speedway her father was hosting in 2001.
"It felt like 110 degrees on the asphalt, but the teams were all having a blast," he says. "They were having parties; there were kids' pools filled with water and children; I talked to guys on Food Network the night before – it was all amazing."
Gray went home and stayed up all night researching. The next day he bought a smoker. In 2002, he got serious about it and cooked in 25 contests. He ended up qualifying for the Jack Daniel's World Championship Invitational Barbecue, or "The Jack" as folks in the circuit call it, that year. The Jack only takes 60 to 70 domestic teams. To put this into perspective, there are about 21,000 KCBS members in the world, so it's the stuff of rookie dreams. He's been invited six times since.
"No one is unhappy when they're cooking barbecue, eating barbecue or talking about barbecue," Gray says. So, when he decided to close the doors of his business, where he had to deal with unhappy people whose houses burned down, he never looked back – this is his happy.
Unlike many competitors, Gray doesn't change his recipes or processes depending on the judges and region. (Different judges prefer different flavor profiles.) He knows that flavor profiles are distinct across the country. For instance, Carolina-style pork can lean toward a more vinegar profile, whereas in Kansas City, there's a tradition for a glaze of thick, sweet tomato-based sauce. Gray believes, though, the judges travel as much as cooks do. Plus, many competitors in the circuit mention a recent nationwide trend of sweeter palates, and "layers of flavor" seems to be a buzzword across the country.
"It shouldn't matter where I am," he says. "Adjusting your profile to different parts of the country is suicide."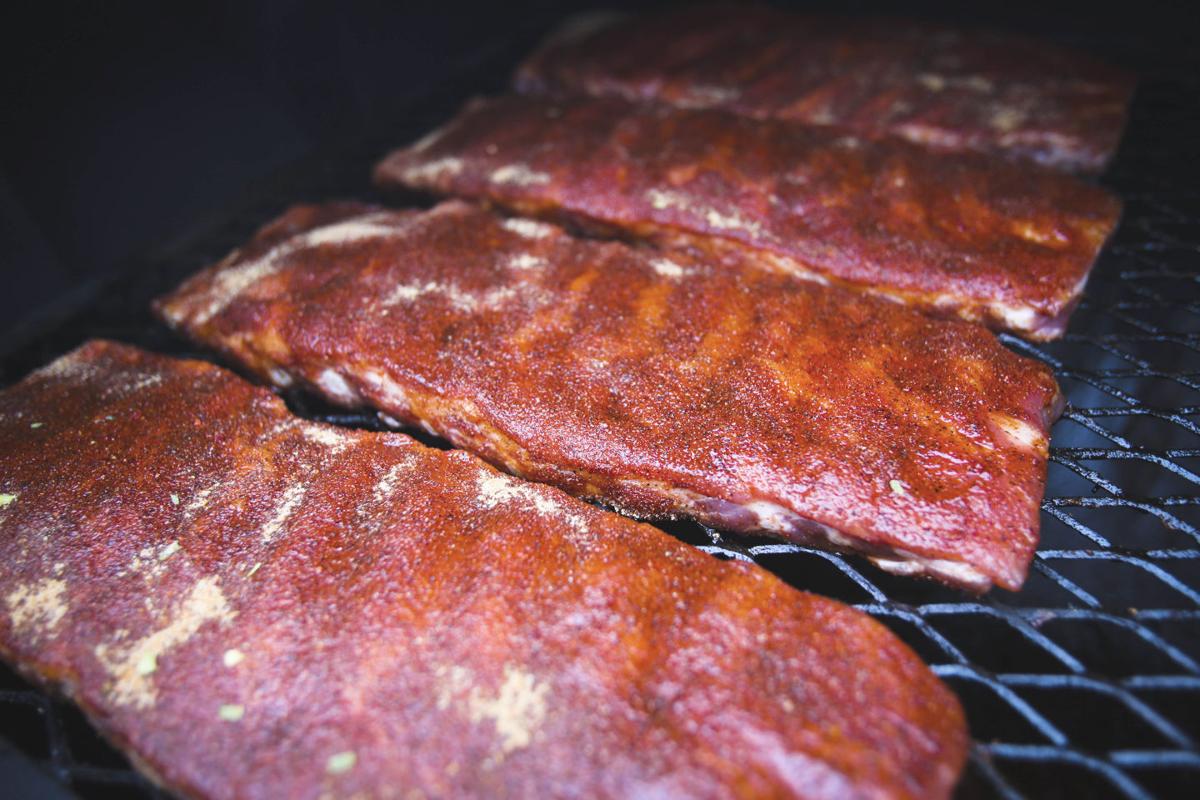 Storied Career
Doug Worgul sets something straight – meat drenched in sauce is not what makes Kansas City barbecue Kansas City barbecue. Sure, there might be a light glaze, but that's no different than anywhere else. He thinks the misconception might have something to do with the ubiquitous KC Masterpiece barbecue sauce found in grocery stores nationwide.
The professional writer, whose career has a focused barbecue theme, is an expert on Kansas City 'cue. As a former editor at Star Magazine, he covered the barbecue scene. He has since written The Grand Barbecue, a history of Kansas City barbecue, and Thin Blue Smoke, a fiction novel based in a Kansas City barbecue joint.
Plus, he's now the director of marketing for Joe's Kansas City Bar-B-Que. Its owners, Jeff and Joy Stehney, got into the biz via the competition route as multiple Grand Champion-winning team Slaughterhouse Five. Many restaurants' origins point back to competition, including Kansas City restaurant Q39.
Kansas City is known as one of the barbecue capitals of the nation, in no small part because of the American Royal. Texas is known for brisket and sausage and a bolder, spicier sauce; the Carolinas for pulled pork and whole hog (known as pig pickin') with a mostly vinegar-based sauce; Memphis for dry ribs and a tomato-and-vinegar-based sauce – and Kansas City is a melting pot embracing all meats in an eclectic style specializing in burnt ends and a tomato-based sauce laced with molasses. Like Kansas City, St. Louis barbecue is eclectic. And, although St. Louis doesn't have an established barbecue sauce, it's the only city with a cut of ribs carrying its name.
Henry Perry, often known as the father of Kansas City barbecue, is the reason the local restaurant scene took hold. The Tennessee-born man worked on a riverboat traveling up the Mississippi and Missouri rivers, eventually settling in Kansas City. He served his Southern smoked meats to Garment District workers from a barbecue stand, which, with success, eventually turned into a group of restaurants, though not all in his lifetime.
Perry left his business to Charlie Bryant, whose brother, Arthur, eventually purchased it, resulting in the legendary Arthur Bryant's that continues to serve beloved barbecue today. And one of Perry's pupils, Arthur Pinkard, helped George Gates found his empire, Gates Bar-B-Q. Both have refrained from competitions, as neither well-established staple has needed the clout competition bestows.
Aside from its rich regional history, Worgul thinks barbecue makes a great metaphor for life: "It's made from tough cuts of meat that really wouldn't [be] edible if they weren't cooked over a low fire for a long time. You take a tough situation, and with patience and faith over a long period of time, it becomes bearable or likeable."
Plus, barbecuers make the best characters for his fiction writing. Worgul says competition barbecue is full of colorful people, bigger than life, who are convinced their barbecue is better than yours. And, as he says, competition of any kind brings out people's egos and personalities, which not only adds color to his writing, but also adds to the show.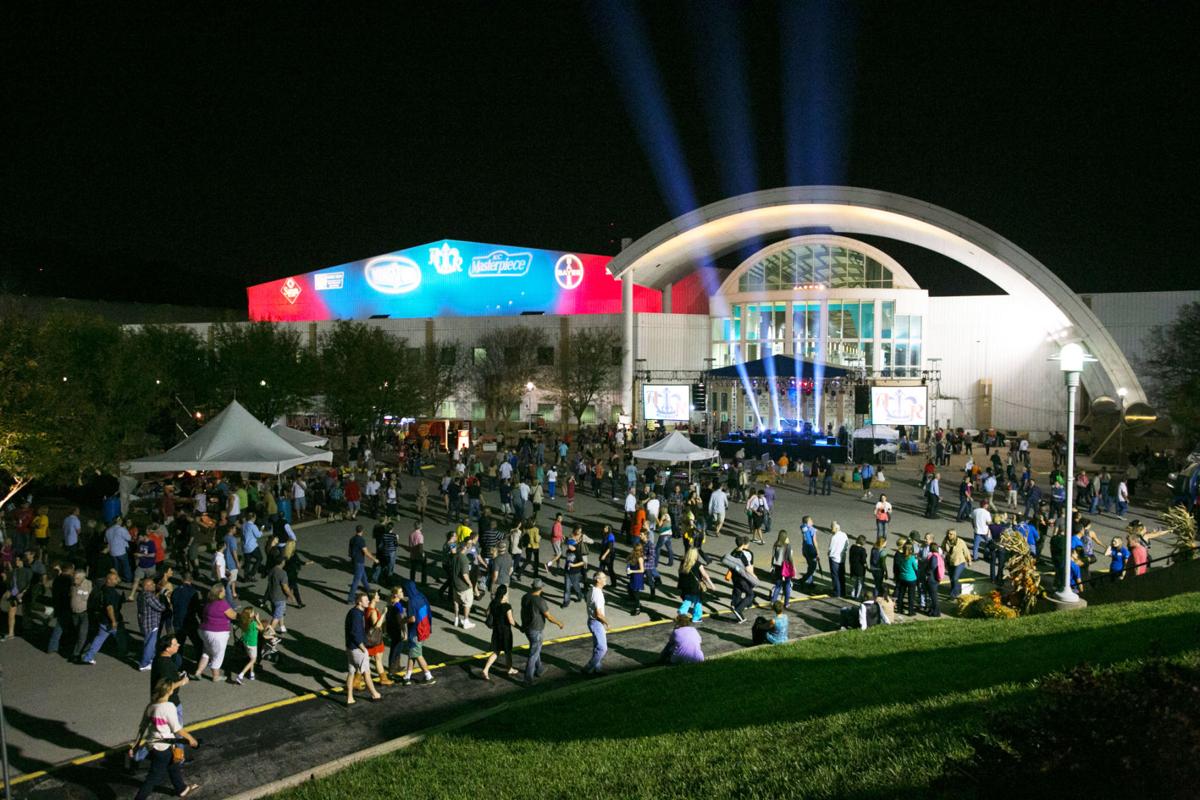 Partners in Pork
Friends and business partners Walter "Skip" Steele and Mike Emerson are two of the biggest barbecue personalities this side of the Mason-Dixon. Both can often be found trolling for laughs in the long, often 30-minute lines outside their establishments. So far, their ownership group, Mothership, has opened the wildly successful Pappy's Smokehouse and Bogart's Smokehouse in St. Louis, The Notorious P.I.G. BBQ in Missoula, Montana and Boogies BBQ in Nuremberg, Germany (Germans love the American food – the smoked burgers have been a big seller since the restaurant opened in 2012), just to name a few. This summer, within two weeks the partners also opened a hot chicken and sandwich spot, Southern, in Midtown St. Louis, and another barbecue restaurant in the greater St. Louis area, Dalie's Smokehouse, in Valley Park, Missouri.
Steele remembers his grandfather, Joe Dalie Wells (for which the new joint is named), sitting out by the grill for hours cooking a chicken low and slow. A few years later, 14-year-old Steele was making 50-gallon grills from old propane tanks he found at the Memphis junkyard where he worked.
His competitive-barbecuing history dates back to 1987. In his first competition, Steele finished 13 out of 14 because he didn't know the lay of the land – and also because the 14th team never arrived.
"We were just a bunch of rednecks who showed up," he says.
Since then, at Memphis in May, Steele has won the whole-hog category, claimed 11 top-six finishes out of 15 competitions and, this year, took second in whole hog with Salty Rinse BBQ out of New York. He's also placed in the top 10 at the American Royal. Now, he's approached by restaurant owners in New York City to compete under their name – because competition wins give barbecue joints street cred.
Steele had already been competing for more than a decade when Emerson, his not-yet-business partner, decided to tag along for Memphis in May. Years earlier, they became friends over a mutual love of hunting and camouflage. At the competition, there's both a blind judging and a presentation judging, where you introduce your process to judges in a tasting.
"We made it to the finals, and the judges were sitting at the table, and one of them, very seriously, asked Skip, 'How did you guys all meet?'" Emerson says. "And he very seriously looked at her and [deadpanned,] 'In prison.'"
Although the duo doesn't compete as often as they used to, they like to spend their time keeping St. Louis barbecue on the map through various events around the nation, including Big Apple Barbecue Block Party in New York City, where 140,000 people showed up to eat barbecue from the best pitmasters in the country.
Years of competing inspired Emerson to help launch Q in the Lou, which takes place for the first time this month, from Sept. 25 to 27, at Memorial Plaza at Soldiers' Memorial Military Museum in Downtown St. Louis. The event will feature local favorites such as Salt + Smoke, Pappy's and Sugarfire Smoke House cooking alongside some of the nation's best: John Stage of Dinosaur Bar-B-Que in Syracuse, New York; Carey Bringle of Peg Leg Porker in Nashville, Tennessee; and Scott Roberts of The Salt Lick in Driftwood, Texas, to name a few.
"I felt St. Louis wasn't getting the recognition," Emerson says. He thinks it's about time the city be appreciated for making some of the best barbecue in the U.S.
Hopeful Champion
This year, Mike Johnson, chef-partner of Sugarfire, bet Steele a friendly $100 that his team would place higher than Steele's at Memphis in May – and they didn't. Johnson won first place in seafood and eighth in exotic (he cooked lamb chops) this year, third place in poultry in 2014 and 14th in whole hog in 2013.
Coming from a chef's background, Johnson takes a different approach to barbecue. He got his first smoker without intending to compete. It was a La Caja China, a Cuban-style whole-hog roasting box, to smoke pork butts. He says barbecue is a lot harder than anything he's done before, and he admits that although he owns successful St. Louis barbecue joints (with three soon-to-open locations), he hasn't fully figured out how to do well in competitions just yet.
"There are all these secrets no one will tell you," Johnson says about his well-seasoned competitors. "Then you get all these guys partying, drunk and spilling their guts. So, this year we picked up a few things."
Johnson won't say what specific tips he picked up in Memphis, but he's confident Steele will soon repay him the $100 he lost.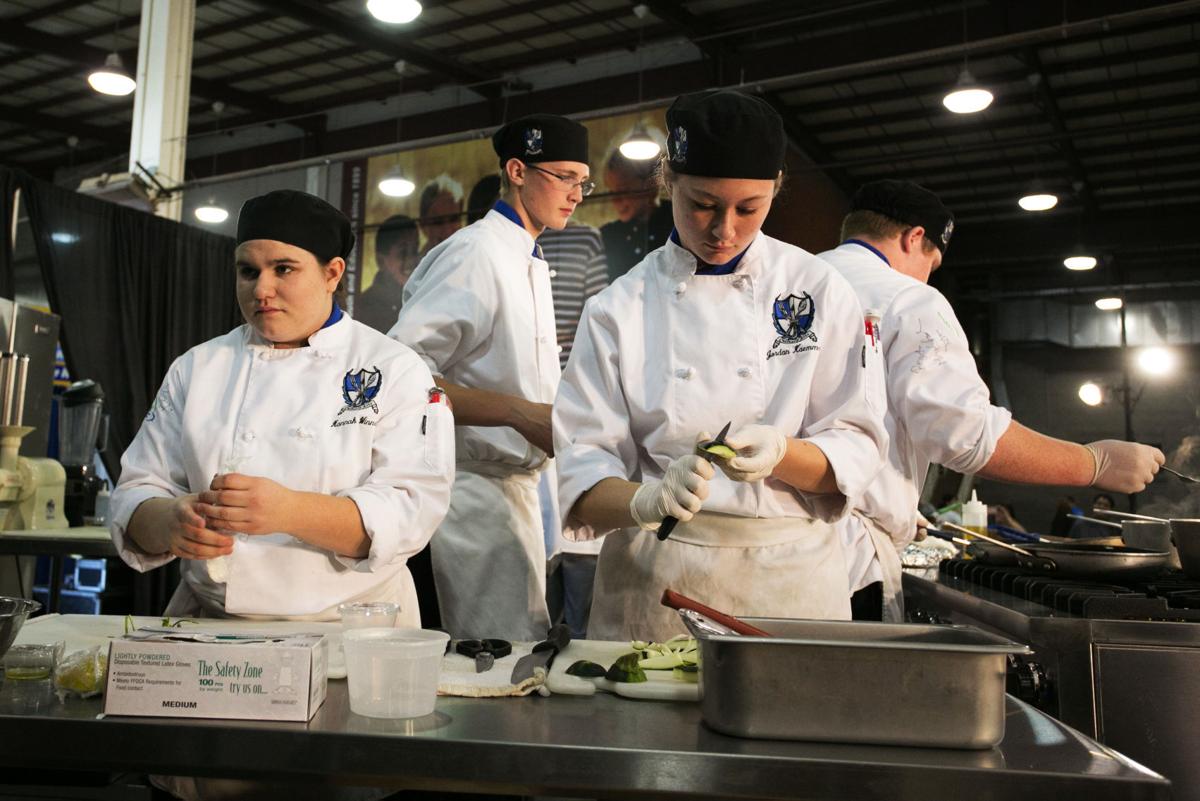 Half-The-Time Cook
Tim Scheer has been driving around his hometown of New Haven, Missouri, all day preparing for an upcoming barbecue competition. So far, he's hit five different independently owned grocery stores to get various meats: chicken, ribs and pork (he orders his Wagyu brisket online). Scheer has become good friends with local meat-department managers who help him order exactly what he needs.
"It's one of the cool things about being from a small town," he says.
Scheer grew up nearby on a hog farm "cookin' pork" – 'cue street slang for barbecuing. In 2010, he decided to enter a local amateur competition and took fourth. He went home, bought a $4,000 smoker and was hooked. So far, he's won the 2014 American Royal open brisket category and the 2012 American Royal open rib with Shake 'N Bake BBQ. He travels most weekends with his wife, Terri, and his three daughters – they now have friends around the country.
"It's addicting," he says. "The cool thing about barbecue is that everyone is willing to help one another out."
Once, Scheer's teammate dropped their bottle of competition sauce, and it shattered all over the ground. Many teams pitched in ingredients to help them recreate it. Scheer ended up winning the Grand Championship that year.
Scheer has turned his hobby into a career. He's a part-time competitor who makes his full-time living selling Gateway Drum Smokers brand barbecue equipment and Blues Hog dressings, stemming from one night during competition season when a fellow competitor and friend, Jeff Brinker, came to his house.
"He said he was going to make me the best ribs I've ever had in two hours in a trash can, and I told him he was crazy," Scheer says. But it worked. They used the ugly trash can as a model for Gateway Drum Smokers, which are now customizable with streamlined seams that keep them airtight and two- or three-grate cooking levels, plus a whole line of other accessories. A year later, in 2012, they won first place in ribs at the American Royal open. It just goes to show, low and slow isn't the only route to a Grand Champion win – hot and fast works, too, which is why Scheer predicts it's an upcoming trend as more people catch on.
He lovingly refers to the guys who cook with drum smokers as the "Insane Can Posse" because they show up at the last minute, cook and "wreck the party." Scheer says people have a lot to say about their methods – particularly when pork butts that typically take 12 to 14 hours are turned out in three and a half.
"But, when you have an American Royal trophy on your shelf, they have a hard time arguing with that," he says.
Munchin' Hogs
Rob Magee also knows a thing or two about trophies. The shelves at Q39, his Kansas City restaurant, are filled with many of them. He's won the KCBS overall Team of the Year twice, and he also won KCBS Team of the Year in both chicken and brisket categories. He took third in the 2011 American Royal open contest overall and placed fifth overall in The Jack – twice. These are only a few of his high honors. Magee was a full-time hotel chef and barbecued as a hobby under the team name Munchin' Hogs – until his success as a 'cue circuit competitor allowed him to open Q39.
Magee graduated from culinary school in 1986 but worked as a chef for many years before that, picking up different hobbies in every city he cooked in: waterskiing in Charlotte, North Carolina, motocross and snow skiing in Denver and barbecue in Kansas City. It's a hobby that has stuck for 12 years.
What's rare about Magee is that he does everything in his restaurant exactly like he does it during competition: brine the meat, smoke it for seven to eight hours, wrap it in foil, etc. He also uses a two-fold process of smoking meat and finishing it via a wood-fired grill. Some traditionalists have considered the method as not true barbecue, but at competitions, Grand Champions are king, and many have won the title finishing on a wood-fired grill (such as a pellet smoker). Plus, the sleepless and methodical work doesn't happen on its own.
Magee arrives at competitions between 1 and 3pm Friday, sets up and starts the two- to three-hour process of preparing his meat – trimming, brining, marinating and seasoning. Every type of meat has a different process. For instance, he brines his pork and chicken for six to eight hours and seasons his brisket and ribs.
Between 11pm Friday and 1pm Saturday he mans the smoker. His slow-cook brisket (burnt ends) is on by midnight, pork is on no later than 1:30am and fast-cook brisket at 4am. Between 7 and 7:30am, he puts on his ribs, wraps the pork and brisket in foil and takes the chicken out of the brine. By 10am his chicken goes on, and his ribs that have smoked for three hours get wrapped. Around this time he also has a Bloody Mary.
"If you don't have the perfect Bloody Mary, you won't win," Magee says.
Between 11am and 1:30pm he concentrates on finishing the meats and getting them to the judges by the designated times. Each meat is different: He coats chicken and ribs with Q39 barbecue sauce before putting them back on the smoker and adding another log of cherry wood. He drains the pork, removes the solidified fat and uses the remaining liquid for au jus, which he uses to keep the meat moist. He coats the pork in this liquid, a little Q39 pork rub, a light sauce and seasoning salt. He creates a similar au jus for the brisket and coats it with seasoning salt and a light sauce, as well. By the time everything is handed off to the judges, Magee has a beer. If it's a good day and he's ready for awards, he'll have a Scotch instead.
And he does it all the same way in his restaurant.
"If I'm going to hang a blue ribbon, I have to give my customers exactly what I gave those judges," he says. Even though, he says, it definitely costs more.
The Mills in Murphysboro
After taking four World Champions and three World Grand Champions at Memphis in May and the Grand Champion at The Jack in 1992, Mike Mills retired from competing in 1994. He focused on the competition he co-founded in 1989, the Praise the Lard Murphysboro Barbecue Cook-Off, which is still thriving today.
Between him and his daughter, Amy, they have two Illinois locations of 17th Street Barbecue and co-own two Memphis Championship Barbecue restaurants in Las Vegas, and Mike inspired and helped open Blue Smoke with St. Louis native Danny Meyer in New York City. Along the way Bon Appétit named his ribs the best in America, andVogue has featured his barbecue on four separate occasions.
A few years into retirement, however, Mike decided he wanted to get called to the stage one more time. He's one of the old guards and co-captain of his third-generation team. Amy and her 24-year-old son, Woody Tunnicliffe, make up their team, Apple City Barbecue.
Technically, barbecue has run in their family for four generations. Mike says that when his father barbecued in the backyard, he could smell the smoke from his crib and used to cry until his mother would take him outside. His father cooked low and slow, and when he passed away when Mike was 9-years-old, Mike told his mother, "I'll do the barbecuing now."
When Mike got older he worked as a full-time dental technician while also operating a bar that served barbecue. When he started to compete, he says the style, equipment and perception of the scene were drastically different than they are today. In fact, a few years ago when the team first returned to Memphis in May, Amy said he made a big to-do about barbecuing the old way and ranked 27th in ribs.
"They've always been first, so that was a little hard to swallow," she says.
Yet the camaraderie is still the same. So is the thrill of winning. But, Apple City Barbecue had to adjust its old-school methods for more modern styles to keep up with the competition – they swapped competing in the ribs category for whole-hog, and eventually worked their way up to ninth in the category, but Mike's still determined for first.
"The flavor profile in today's competition barbecue is very sweet with a bit of heat at the end," Amy says. "It's all about getting an explosion of flavor in just one bite. Ribs are often cooked using foil and slathered with squeeze 'butter' and brown sugar. There are several sauces that the majority of teams use, and those are doctored a bit to help with flavor and shine. When Apple City Barbecue reentered the fray, we cooked ribs without any of those methods. Instead, we cooked the way we did 18 years ago. We used the pit built out of an old propane tank, and cooked directly on the pit with no foil. The ribs were fantastic – but they did not earn a call to the stage."
Amy once wanted nothing to do with barbecue after a childhood spent surrounded by it, but she says age and time made her eventually acknowledge her part in the family legacy. Now she helps market the restaurant for a living and hears the stories she's been listening to her entire life with new ears – she hears them with pride. She's even written a James Beard award-nominated book full of family barbecue stories, Peace Love, and Barbecue.
"I certainly don't think we hang on to tradition for tradition's sake," she says. "We change with the times a little, but we really try to honor and pay homage to the people who came before us. It's such a uniquely American style, and we don't want to lose sight of how we got to where we are today."