Building Q39's Bar Program From the Ground Up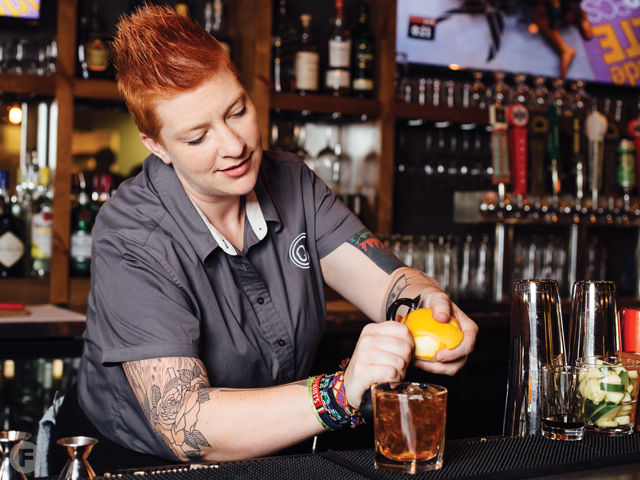 Article: How Jenn Tosatto is Building Q39's Bar Program From the Ground Up
Author: Sarah Kloepple
Publisher: The Feast Magazine
Date: Aug 26, 2016
Jenn Tosatto has been bartending in the Kansas City area since 2007, and she has no intention of slowing down – just ask the folks at Q39. The Westport barbecue joint, which has announced plans for expansion and a second location, recently welcomed her as the new bar manager, and Tosatto intends to essentially build Q39's bar program from the bottom up. She was originally a barback at now-shuttered Bar Natasha before being promoted to bartender and moving on to gigs at The Rieger and Dempsey's Burger Pub.
Tosatto is also one of the people behind a bartending contest known as the Midwest Melee at the annual Paris of the Plains Cocktail Festival held last month, where bartenders from five different teams around the Midwest compete in trials that not only test their bartending skills but also things like teamwork and creativity. Now, she's accepted the challenge of pairing cocktails with barbecue.
Why did you make the move to Q39?
I always knew that eventually I wanted to run my own bar program, but it was a matter of waiting for the perfect opportunity to come along. I'm a single mom now, so it had to be a place that could work with the fact that I need [to work] mostly in the daytime. It needed to be somewhere that I believed in. I've loved Q39 in the few years it's been open – the food is phenomenal. [Chef-owner Rob Magee and I] both have this passion: The passion that he has for barbecue is the same passion that I have about spirits and cocktails. I think it was a perfect match.
How do you hope to build and change the bar program at Q39?
It's going to take some work because pairing cocktails with barbecue can be tricky, but it's a really fun challenge. Q39 does such high volume – there are a lot of people there. It's going to be finding that balance of making really great, quality cocktails really fast. I want to use kitchen ingredients in some of the cocktails; there will definitely be aspects of smoke. I definitely know there's going to be some focus on whiskey, scotch and sherry because those flavors are going to work incredibly well with barbecue.
What's the most important thing you've learned about bartending?
Don't be a jerk. You have to maintain a level head about everything and truly think about what you're doing, like in any career. A mindful bartender is actually something that [author and spirits-industry expert] Gaz Regan says, which I take very much to heart. If you're a mindful bartender, you're going to be a successful bartender.
What inspired you to start the Midwest Melee?
It actually started as a grudge match between me and St. Louis bartender Matt Seiter [who writes The Mix column in Feast]. It started as a one-on-one, head-to-head competition between Kansas City and St. Louis. The next year, I thought, "That was fun. What if we did it more? What if we did a Midwestern thing?"
What else are you excited to do at Q39?
The other big thing about Q39 is how excited I am to be coming on when I'm coming on. Q39 has got some big things coming up. By the end of this year, we're going to be expanding the original location, which is super exciting. Next year, we'll look to be opening a new location in Overland Park, Kansas. Coming in on the precipice of that kind of expansion is, one, terrifying and, two, incredibly exciting. I'm really thrilled that Rob chose me to take this journey with him.
Read original article here: https://www.feastmagazine.com/drink/drink_kansas_city/article_96c55654-6975-11e6-a2b8-a71ed4ece011.html