Q39 BBQ OF KANSAS CITY, MO – J29 Creative Group
November 25, 2015
Be careful to not comprise your quality, but don't be too stubborn and stop your evolution" has been a motto that has served Rob, owner of Q39 BBQ Restaurant, well since they opened in 2014. It is no coincidence that they have the best BBQ in the city of BBQ. His culinary training, skills and awards in BBQ have preceded him.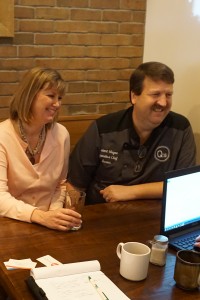 In 1986, Rob finished up his training in classical cuisine at the Culinary Institute of America. After graduating, his goal was to either be a TV personality chef or open
his own restaurant. However, one thing that was impressed upon him during his studies was to avoid going into debt to open up a restaurant. He was encouraged to wait until he was set up financially so as not skimp on quality, consistency or final product by trying to save a buck. He was taught to think about having enough financial backing to make his product great. He took that advice and began working to gain experiences that would build his career to the point where he could pursue whatever he wanted to do and also have the money to do it right from the start. This advice set him on a path that through time and patience became his success story.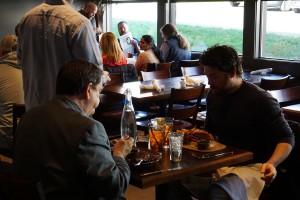 The Westin Hotel Company welcomed him with open arms as a chef and he traveled around the country working with them starting in Texas and ending up in Kansas City, MO. One of his positions was at the Westin in Charlotte, which is where Rob gained some of his most valuable experience. He was the head chef and also Director of food and beverage. This meant he handled all of the banquets, the dinner meal for the restaurant, the bar, and the room service. He learned how to run a restaurant as an organization, which later turned out to be a very valuable experience as he would go on to run his future restaurant like a hotel, with great efficiency.
He loved getting actively involved in each community that he lived in and taking on whatever they were known for, whether it was a sport or some type of food. In Denver, he become a professional driver for motocross. In the same way, when he came to KC, he quickly learned about the Midwest being known for its BBQ. The Westin brought him here, but then he moved on to work for the Hilton and was head chef there for 12 years. This was when he truly began to dip into the KC world of BBQ. Just like all of the other cities he lived in, Rob found a new hobby and once again fit into his surroundings. With the support of his management team, at the Hilton, Rob started getting involved in BBQ competitions. He started a competitive BBQ team named the Muchin hogs and in 2006, won as the first grand prize champion out of 60 teams. They went on to win many more competitions.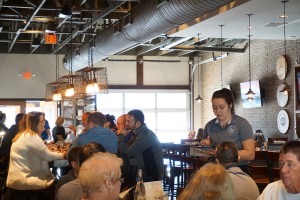 Using his 30 years of seasoned experience, he launched his dream of opening a restaurant within a 6 month period. He took all of his experience and put together a hybrid of Kansas City favorites in a stylish, modern-rustic restaurant unlike any other BBQ restaurant experience in Kansas City. It combines the upscale
dining atmosphere with the rustic feel of a BBQ restaurant and perfectly unifies the two styles. The other thing that sets Q39 apart from other BBQ establishments, is that Rob has a passion to push beyond his limits. He was told by industry leaders that there was no way to keep his meat fresh, but in spite of the disbelief, he developed a system that keeps everything organized so that the meat always comes out fresh without the use of a microwave. In fact, the Q kitchen does not even host a microwave. Q39 cooks their meat per serving hour, which allows their meats to be cooked fresh every hour of the day. The theory is, you can always add flavor, but you can't add moisture. So fresh is must.